The Sealy Grasmoor is perfectly positioned at the top of the Ortho Plus collection, offering the maximum combination of support and durability.
At the heart of the mattress is our bespoke PostureTech spring system, designed to provide deep-down support that is long lasting. The springs react to the weight and movement of your individual shape, applying support where your body needs it the most. The springs are not alone in their mission to deliver a great night's sleep, Edge Guard works in unison to extend the sleeping area and provide added durability.
Not only this, a Powerpack is located in the centre of the mattress to offer additional support to your lower back.
The Sealy Grasmoor is also double sided with each side beautifully tufted for a firmer level of support.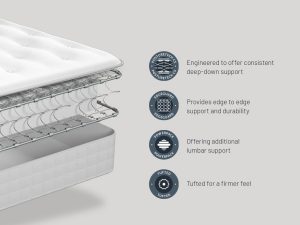 Precisely engineered at Sealy
The PostureTech Core Support spring system works to support your body where you need it the most. The springs gradually get firmer as pressure increases to provide deep down support and pressure relief. Teamed with Edge Guard, the springs really are a force to be reckoned with. Edge Guard sits alongside the springs to offer greater stability and a durable edge that you can count on for years.