The Sealy Baystone offers a firmer level of support for those who struggle with aches and pains.
At the very foundation of the mattress is our unique PostureTech Core Support spring system, designed to respond to the heaviest parts of your body and apply the maximum support you need for a great night's sleep. With the trusty help from Edge Guard, the mattress offers a feeling of security and durability, ensuring the mattress retains its shape over time.
A standard feature in our Ortho Plus collection, the Powerpack offers additional support to the lumbar region and works simultaneously with the spring unit to reduce any aches that are disturbing your sleep.
The Sealy Baystone is a double sided with a tufted surface on each side, offering just as much support each time you turn and rotate the mattress.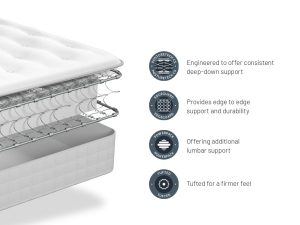 Precisely engineered at Sealy
The PostureTech Core Support spring system works to support your body where you need it the most. The springs gradually get firmer as pressure increases to provide deep down support and pressure relief. Teamed with Edge Guard, the springs really are a force to be reckoned with. Edge Guard sits alongside the springs to offer greater stability and a durable edge that you can count on for years.